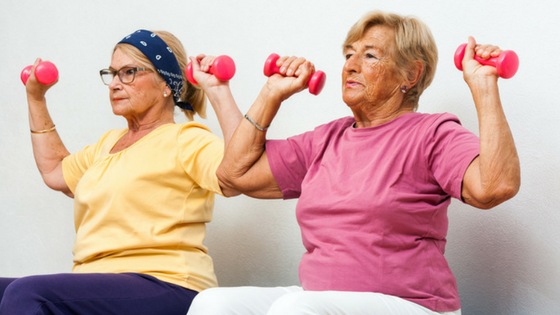 The Senior Health and Fitness Guide
Staying fit and healthy gets harder and harder as you age for many reasons, but if you follow these three steps in our fitness guide it may help improve your overall health.
The Ultimate Fitness Guide
Exercise
As you age you start to get weaker and begin to lose muscle and mobility, but with these few exercises you can become stronger and stay fit!  
1 or 5-pound dumbbell curls (sitting or standing).
Sit on a chair with back straight and knees bent, and then stand up straight.
You can do squats at home to strengthen your lower body.
Walk for about 15-30 minutes about three days a week.  
Get a gym membership. There are hundreds of gyms out there that may help you reach certain goals, and a lot them have great classes to help with mobility and increase muscle mass.
Keep a Food Diary
When you get older maintaining a healthy and nutritious food plan is key to maintaining a healthy weight. There are hundreds of food plans out there that work for different people, but how do you find the right one for you? There are a few things that you can do to help find the right food plan that will fit your age and lifestyle.
Here are a few tips that can help assist your decision:
Talk to your doctor. Your doctor knows a lot about you and your health, and he/she can help make sure you are getting the right nutrients to keep you going.
Consult a Nutritionist. They're experts in all things food, so they will be able to help you in creating a plan that fits you best.  
Talk to a family member, friend, or anyone who has any experience in stay fit.
Remain Socially Active
As you age sometimes it's easier to lose contact with family, friends, or to make new friends, which may put a damper on your overall health. Isolating yourself can lead to a feeling of loneliness, depression, anxiety, and many other things that can keep you from being your best self.
Here are a few tips that may help you stay socially active.
Join a club or community group. Being part of something can help you meet new people, see friends, and give you a sense of purpose or belonging.
Go to church or volunteer if possible. Giving your time to something besides your normal day-to-day activities can help you stay focused and not feel so out of touch.
Set up family get-togethers once a week if you can. There is nothing like spending time with those who truly mean the most! There are plenty of things that you can do as a family that all ages would enjoy like taking a walk, playing cards, or watching a favorite movie. As long as you're spending time enjoying each your loved one's company it doesn't matter what you do to pass the time!
We hope we provided a few ideas to help you stay physically and socially active as you age! Always remember to talk to your doctor or physician before starting any diet or exercise plan. If you or a close family member needs assisted living, long-term living, or rehabilitation services be sure to give us a call at (937) 319-8924.