Enhance independence with our family-style apartments in our assisted living unit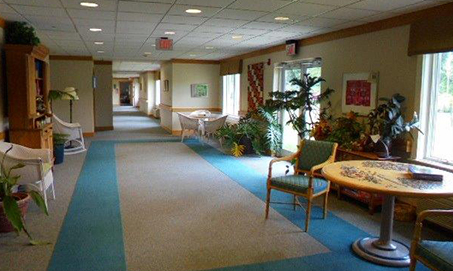 Maintain you or your loved one's independence in our assisted living unit. Tenants enjoy full use of a family-style environment, featuring common dining and living areas, including covered patios, a gazebo and a large pond. The center encourages residents to enjoy socializing in a secure, modest, quiet setting. Featuring 20 individual apartments with four different floor plans and large bathrooms, our assisted living unit is a licensed facility designed to enhance independence.
Services
Our assisted living unit includes a broad range of services to ensure seniors are able to continue to be self-sufficient while making sure they have access to the medical and personal care they need. Medical care includes medication management, 24-hour personal care assistance, and nursing care. Our assisted living unit also includes weekly housekeeping and linen service, with personal laundry service available.
Amenities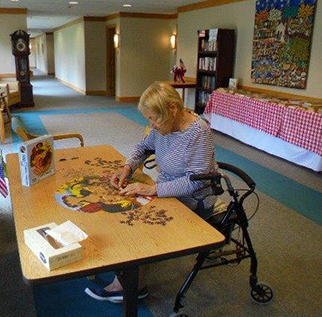 To make our residents comfortable, social, and safe, we offer a number of amenities for our assisted living unit. All of our apartment and living areas are protected by a fire alarm and emergency response system.
Our residents enjoy delicious meals with selective menus, are able to attend community outings, and have access to exercise programs.
Residents can choose from a number of daily scheduled social activities right on our campus. Within our community, residents can visit the library, get their hair styled at the beauty salon and barber, view and enjoy our community garden, spend time relaxing in our inviting covered porches, and walk more than 20 acres of our beautiful grounds and paths. Other amenities include an active volunteer program, pet therapy, and large, private handicapped accessible bathrooms with showers. There are also spiritual services available.
Assisted Living Programs
Through our assisted living unit, we also offer many programs for residents. These include:
Physical Therapy
Occupational Therapy
Speech Pathology
Optometry
Dentist
Psychiatric and Psychological Consultation
Audiology and Hearing Aid Repair
Podiatrist
Orthotics with Diabetic Shoe Fitting