Are you looking at surgery in your future?
We have a comprehensive outpatient rehabilitation center for a variety of needs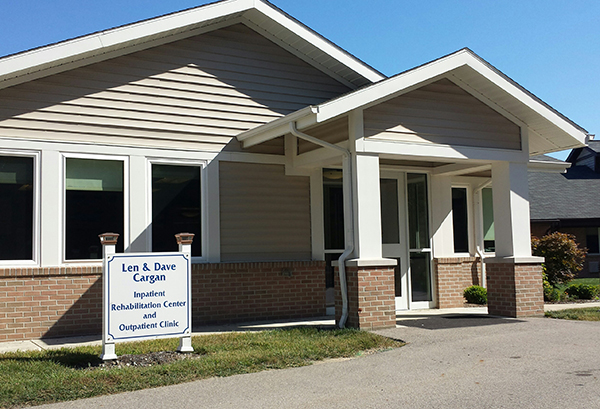 Friends Care Community offers convenient outpatient Physical Rehabilitation Services in Yellow Springs and the surrounding area, including Springfield, Dayton, Beavercreek, Centerville, Xenia, and Jamestown. Each patient is given a comprehensive treatment plan, and our therapy staff work in a state-of-the-art facility that has a range of exercise equipment to treat a multitude of rehabilitation needs.
Would you like to explore your options? We invite you to come meet our team and see our facility in person. Request a tour and meet the team that could be providing your care and therapy during the recovery process. We'll help develop a plan that is perfect for you.
Medical Diagnoses Commonly Treated:
Stroke
Hip Replacement
Knee Replacement
Shoulder replacement
Generalized Weakness
Aphasia
Dysphasia
Cardiac Dysfunction
Spinal Stenosis
Fall Prevention
Dementia
Low Back Pain
Gait Disorder
Balance Disorder
Neurological Disorders
Physical Therapy
During your rehabilitation, our team of skilled nurses and rehabilitation specialists will work to strengthen your lower body while improving both static and dynamic standing balance. We can help improve knee or hip range of motion after orthopedic surgery. In the case of pain or range of motion deficits, we can provide modality treatment of electrical stimulation and/or ultrasound to address pain and range of motion issues.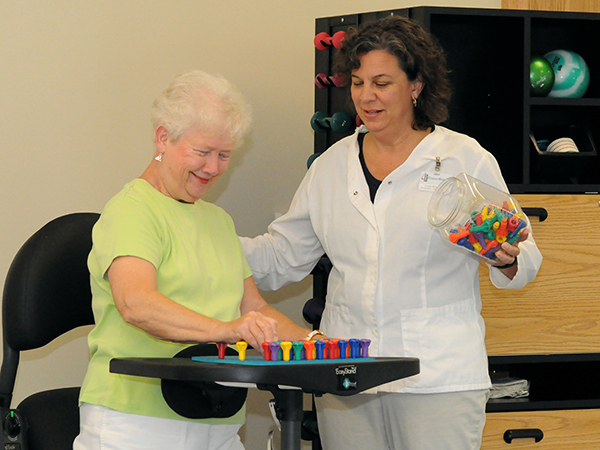 Our team will always assess your safety, with functional transfers, make recommendations for assistive devices (such as walkers or knee brace supports), and by administering standardized testing to rate balance and strength. We can also provide training on manipulating stairs with or without arm rails, to help prepare our patients for discharge. We will also ensure our patients are trained in safety awareness with functional mobility and fall prevention techniques.
We will coordinate discharge plans with patient and family. All of our staff is educated on proper transfer techniques.
Occupational Therapy
Our occupational therapists work to strengthen the upper body while improving the activity tolerance of our patients and providing energy conservation and work simplification training techniques. Our team also works to provide shoulder orthopedic and hand rehabilitation.
We will help ensure the retention of self-care skills, such as bathing, dressing, using hemiplegic techniques to compensate for non-use of a limb, and retraining of homemaking techniques to improve safety awareness. Our team will administer standardized testing to measure cognitive dysfunction and provide modality treatment or ultrasound and electrical stimulation to treat range of motion deficits and pain.
We are greatly invested in the safety of our patients, and as such provide safety awareness training with functional mobility and self-care skills.
Our occupational therapists will coordinate discharge plans with the patient and their family.
Speech Language Pathology
We also treat a range of speech issues, with speech language pathologists working to help patients with swallowing dysfunction or cognitive dysfunction.
Our team will administer standardized testing to measure cognitive dysfunction, and can provide training in problem solving daily functional tasks. Our team will coordinate discharge plans with patients and family.
Physical Therapy, Occupational Therapy, and Speech Pathology services can be scheduled Monday through Friday, with a Physician's prescription. Our state-of-the-art therapy department is located adjacent to the Inpatient Rehabilitation Unit with its own entrance and convenient parking.
For more information contact Sheila Bratchette, COTA/L. Therapy Program Manager at 937-319-8940. Most Insurances are accepted.