Friends Care Community has been a leader in rehabilitation for more than 35 years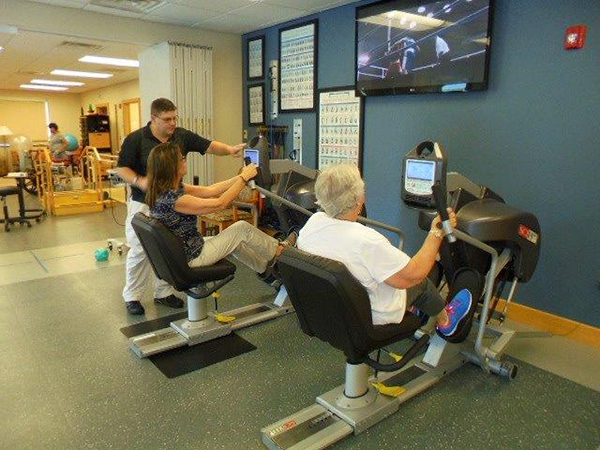 Now, with a recent $2.25 million renovation of our 16-bed Rehab Unit, we remain at the forefront of rehabilitation therapies. Our state-of-the-art, 15,832 square foot Rehab Unit encompasses innovative modalities for physical, occupational, and speech therapies for post-hospital care patients and for outpatient therapy.
Our 2,479 square foot Rehab Therapy Gym is dedicated to rehab therapy treatments. It is a "specialty gym" designed to promote, restore, and maintain overall fitness and health, while presenting an innovative approach to physical wellness and rehab therapies. This airy and spacious rehab therapy gym is full of natural light and is bathed in soft colors, emanating a warm, soothing and healing environment.
The roomy expansion has impressive modalities and therapeutic equipment, along with a simulated home environment, to provide patients the tools to help them become stronger, more independent, and prepared to return home.
Short Term Rehabilitation Services and Amenities include:
Physical Therapy
Occupational Therapy
Speech Language Pathology
State-of-the-Art Equipment
Post-Hospital stays
Outpatient Therapy
16 Large Private Rooms with Bathroom & Shower
Café
Wi-Fi
Private Lounge Areas
Choice Menus
During your stay with Friends Care Community, a team of skilled nurses and rehabilitation specialists, along with a physician, social worker, and dietician, work together to provide the best rehab program for each individual patient. Our therapists are caring, our environment is friendly, and every patient has a spacious private room with a private bath and shower. This can be particularly beneficial for patients who require orthopedic rehabilitation, are recovering from specific injuries or surgeries, or have suffered congestive heart failure, vascular disease, or stroke.
Medical Diagnoses Commonly Treated:
Stroke
Hip Replacement
Knee Replacement
Shoulder replacement
Generalized Weakness
Aphasia
Dysphasia
Cardiac Dysfunction
Spinal Stenosis
Fall Prevention
Dementia
Low Back Pain
Gait Disorder
Balance Disorder
Neurological Disorders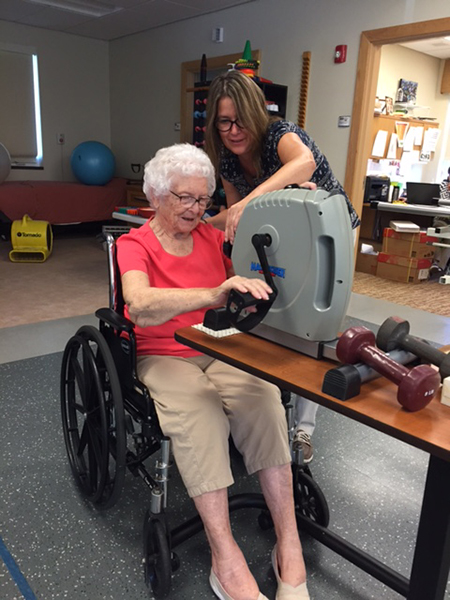 Our team provides one-on-one therapy sessions to maximize independence with personalized treatment plans. Members of the rehabilitation team will evaluate a patient's needs to develop appropriate goals and coordinate therapies to make those goals a reality. Patients benefit from regular interaction with our physicians, nurse practitioners, and other medical professionals.
For most patients that require rehabilitation, the ultimate goal is to return home as soon as possible. Upon admission, a comprehensive discharge plan is initiated to help ensure a patient's safe and smooth transition home. Our therapy team is also available for those patients who wish to return for outpatient treatment after discharge. Continuing with the same therapists throughout the recovery process can be of substantial value.
As another piece of the discharge planning, we can also assist patients with arranging home care or therapy services after discharge, as well as any medical equipment that may be needed in the home such as walkers, wheelchairs, etc. We also offer "Home Safety Visits" with patients to assess patient function and mobility in the home environment as part of the discharge planning process.
Take control of your recovery planning
Want to explore your options? If you have an upcoming surgery, or one that's already been scheduled, we invite you to come visit us. Meet the team and talk about the therapies that can get you back on your feet faster. Together we'll work to develop a plan that's right for you. Schedule a tour today.