We have a rich history within the community of Yellow Springs
Our roots in the community began in the 1960s when Arthur Morgan felt Yellow Springs should have a nursing home. Morgan, former president of Antioch College and prominent community leader, was instrumental in the establishment of the Senior Citizen's Center. His idea inspired enthusiasm among members of the Yellow Springs Friends Meeting and a committee was formed that undertook preparatory work on the idea.
In 1977, the Friends Meeting took the initiative to enlist community support for the establishment of a nursing home. There was unanimity on the need for such a facility to be located in Yellow Springs.
The Friends Health Care Association (FHCA) was established in 1977 as a not-for-profit organization to provide health care services and convalescent living arrangements for residents of the Yellow Springs community. The FHCA undertook the fundraising and construction of Friends Care Community, which opened in August 1980 as a 50-bed skilled long-term living unit.
The initial Board was appointed by the Yellow Springs Friends Meeting. The Board of Trustees of the Association currently consists of 11 members of the Yellow Springs community, six of whom are selected by the Friends Meeting of Yellow Springs.
By 1999, the need for additional services became apparent and Friends Assisted Living Center opened with 20 rooms and suites. Friends Independent Living Cottages followed in 2002. These additional programs transformed FCC from a small nursing home to a continuing care retirement community, serving many cities in Ohio, including Yellow Springs, Springfield, Dayton, Beavercreek, Centerville, Xenia, and Jamestown.
Through its facilities and programs, FCC strives to provide a welcoming, vibrant, and homelike environment. The buildings and campus include a pre-school program for children, dogs, cats, birds, fish, a greenhouse, playground, community garden, and paved walking paths through scenic woods and gardens. A broad range of activities are offered for all levels of ability. The facilities are also frequently used by community members for a variety of activities.
FCC has always been a leader in the field of geriatric and resident care and has been committed to development in those areas. To further our commitment, FCC became the first nursing home in Ohio to admit people with AIDS in May 1987.
1977
Friends Health Care Association formed a not-for-profit corporation to provide skilled nursing services to the Yellow Springs Community.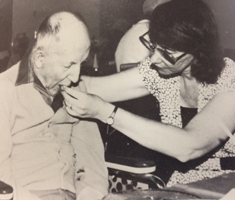 1980
Friends Health Care Association opens a 50 bed skilled nursing facility.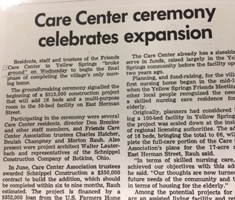 1983
Friends Care Skilled Nursing Care Unit was expanded to meet the increased demand for services. The addition included 16 additional beds and a multipurpose area for resident and community activities.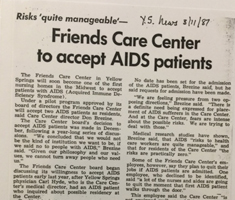 1987
Friends Care Community is the first home in Ohio and the first in the nation to admit people with Aids.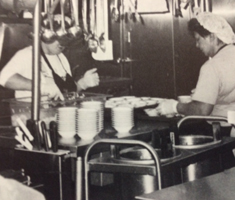 1997
Friends Care Community expanded the dining room, renovated the kitchen and added laundry facilities.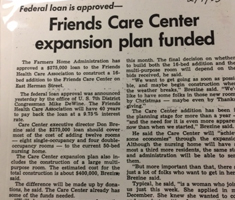 1999
Friends Care Community opened a 20 Apartment Assisted Living Community.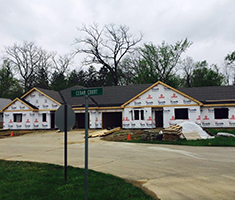 2002
Friends Care Community built the first 2 Independent Living duplexes of a planned 32.
These additional programs transformed Friends Care Community from a small nursing home to a Continuum of Care Retirement Community.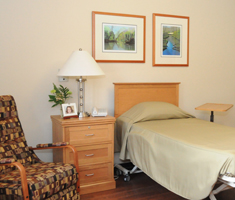 2004
Friends Care Community continued its commitment to being a leader in providing comfortable as well as attractive living conditions by completely renovating the 66 bed skilled Care Building. This was a 2 year undertaking.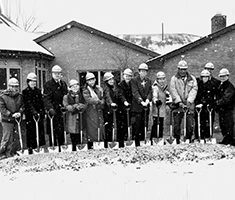 2010
Friends Care Community broke ground for the Rehabilitation/Short Term Stay Unit with 16 private rooms and private baths. The project also included the building of 3400 Square foot physical rehabilitation building for the provision of Physical, Occupational and Speech Therapies.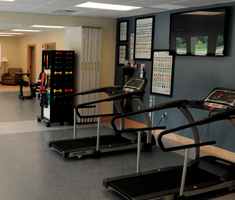 2011
The first Resident was admitted to the New Rehabilitation Unit.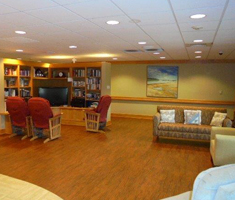 2014 – 2015
More renovations to the Dining Room in Assisted Living and Long Term Living Unit. Improvements include paint, new flooring, refinishing chairs, and flat screen televisions in every Long Term Living room.