At FCC, we're here to provide our residents a homelike environment, respecting the dignity and needs of each individual's health care
Our Mission
Friends Care Community meets the residential living needs of seniors and others by providing independent living, assisted care, skilled care and convalescent options in a vibrant, homelike environment. Our goals are the happiness and fulfillment of all residents and staff, by respecting the dignity and unique needs of each individual.
Following our mission, our ultimate purpose is to provide our residents a care facility that offers them individualized health care, taking their needs into account and providing them restorative or supportive care as appropriate.
To that end, we hire the people that best serve our residents, with many of our employees being with Friends Care Community for years. Within our nursing unit, 48 percent of our employees have been with Friends Care for more than five years, with 67 percent having been employed for more than three. 32 percent of our nursing aides have more than seven years experience with Friends Care and 49 percent have more than three years here. More than half of our therapy team has been employed with Friends for more than five years. Our entire team is dedicated to serving our residents.
We focus on an emphasis of nutrition, giving special attention to our residents individual diets and preferences, and avoiding "institutional" convenience foods. We provide nutritional counseling for residents who are about to move out of the Center, and will also help and counsel their families.
Medication is used for medical reasons and resident welfare only, not for convenience of staff in management of residents. We believe in careful consultation regarding there use with physician, staff, resident, and/or family (or resident-advocate in lieu of family). Our policy is to provide an openness wherein fears can be acknowledged, expressed, and let go so that room is made for love.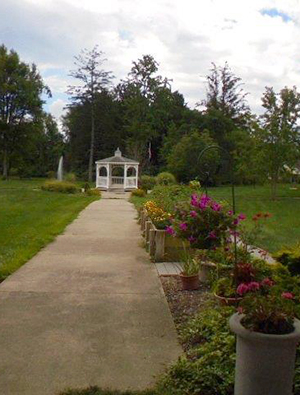 Our environment is restraint-free to maximize resident dignity and independence. Additionally, we provide an environment that is not only sanitary and medically adequate but one that provides privacy, comfort, aesthetic interest, and maximum aids to self-care. Our residents have access to a range of social settings, including outdoor areas.
Ensuring our residents are able to be involved in our community is crucial. We maintain community involvement, which includes planned recruitment and use of regular volunteers from the village and college communities. Our activities department has many years of experience in our community, with three of our full-time employees having been part of the Friends Care community for more than 20 years.
We also offer a secure and friendly atmosphere of staff and surroundings that stresses appreciation of the individual personality of each resident and the recognition and protection of his/her rights. We have particular concern for meeting the emotional and spiritual needs of the terminally ill and their families.
Our community is also made up of a dynamic staff
We believe our community is more than just our residents but includes our hardworking and caring staff. To continue our goal of providing our residents and staff happiness and fulfillment, we believe in offering a work environment that respects the personal needs and capabilities of each employee and gives them opportunity to grow and improve their skills. We aim to recognize the needs of our employees, to ensure they are heard, positively supported, and fairly treated.
Each employee has the opportunity to contribute to the quality of care at FCC, with open communications within and among all sectors of the staff, residents, families, and the Board of Directors.
We respect our employees job satisfaction and their need for job security, and make sure wages and benefits are as rewarding as the economic factors of FCC operation will allow. Our community accomplishes quality of work and care through a management team that uses participatory methods wherever appropriate. Management also sets the tone of two-way open communication and teamwork that extends to all employees and to relationships with residents and families.
The community studies and accepts what seems sound in developments in the field of geriatric care, health care personnel developments, and care management. FCC stands ready to make contributions to these fields as the occasion offers.
Friends Care Community collaborates with the Home Assistance Program of the Yellow Springs Senior Center.